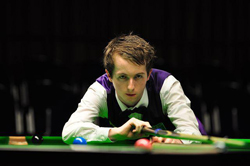 Scott cues-up home debut
Dec 7 2012 by Gordon Bannerman, Perthshire Advertiser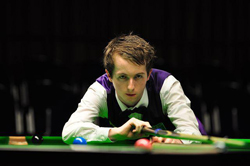 Fair City snooker ace Scott Donaldson is preparing for a high profile World Snooker Tour Scottish debut.
And PA Sport is offering readers a chance to cheer on their favourite in an easy to enter competition for five pairs of tickets for the weekend action courtesy of World Snooker .
The Perth potter shares the venue with some of the world's greatest snooker players, including four times world champion John Higgins, former world champion Neil Robertson and world number two Mark Selby, as well as legends like Jimmy White and Steve Davis.
The event takes place at the 600-seater Ravenscraig Regional SportsFacility in Motherwell from December 14-16.
It will be the fifth tournament on the new Betfair European Tour, part of the Players Tour Championship series.
Scott (18), whose career has been supported by Tayplay and parents Hector and Sheila, is making his professional debut on home soil having secured the European amateur championships in Latvia earlier in the year. That bagged a two year passport into the pro ranks.
If he progresses beyond a first round tie with England's ex-top 16 player Jamie Cope, Scott could face Higgins, a childhood idol along with Stephen Hendry, and he said: "This is going to be a special event for me and the family will be out in force. It is my first in Scotland since turning pro."
It was just 11 years ago that his dad bought Scott a four-foot table to give him a taste of the game and he had graduated to a full-sized table at 10.
"I played at the snooker halls in James Street and then St Johns's Place before going to Riley's in York Place. That that has now closed as well. It is sad that Perth doesn't have a snooker hall, especially as there are a lot of talented players here. Hopefully Riley's will open up in a new guise."
Scott's travels since turning pro in the summer have taken him to Belgium, Bulgaria and Germany, in addition to events in England.
He also travels to the Locarno in Edinburgh every day from his Perth home to put in the hours on the table.
"It has been pretty hectic but I am finding my feet and feeling my way at this level. The standard is top notch but I have posted a few wins and my game is improving all the time," said the world's third youngest snooker professional. "Unfortunately half the ranking events have been held in China and that isn't ideal."
To be in with a chance to bagging a brace of tickets simply tell us where Scott won his European amateur title.
Send your answer with your name, address and phone number by Tuesday lunchtime to Snooker Competition, PA Sport, 58 Watergate, Perth PH1 5TF or by email to gbannerman@s-un.co.uk
To buy tickets call 01698 274600 or visit www.seetickets.com