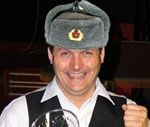 Craig MacGillivray lands billiards invite to Russia
By MICHAEL GALLACHER
Published on Friday 1 February 2013 12:00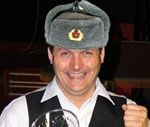 Granton snooker ace Craig MacGillivray will start as an underdog next week when he cues up at the 2013 World Pyramid (Russian Billiards) Championships in Kemerovo, Russia.
The former snooker professional has been chosen to represent Scotland alongside representatives from 15 other European nations against the top Russian players in an event that lasts four days from February 6-9.
MacGillivray said: "I was delighted to get the chance to compete in this event and visit Russia for the first time. The Russian federation are generously paying the flight, accommodation and food costs for the event so when the call came through offering me a place in the event, I jumped at it."
In total, 64 players will be competing for a share of the $50,000 prize fund, with $10,000 going to the winner.
MacGillivray, though, was quick to play down any chance he had of winning the event. He added "My aim is just to win a match. The Russian players are likely to dominate the event but at least the way it has been organised, a couple of the Europeans playing the game for the first time will make it through to the final stages."
Pyramids is played on a full-sized table and, as in 8-ball pool there are 16 balls but 15 (racked in a pyramid) are white and numbered. The object of the game is to pocket eight balls and the pockets are only marginally wider (14-18mm) than the diameter of the balls, therefore requiring greater precision to pot a ball than in pool.
MacGillivray added: "I don't know anything about the game. It looks very difficult and there appears to be a few different sets of rules but I am sure I will find out when I get there. I have been told I need to get a cue with a bigger tip as the balls are bigger than they are in snooker but other than what I have seen on the internet, that is all I know."
Before MacGillivray jets out to Russia on Monday, he will be looking to further increase his lead at the top of the Scottish Masters snooker series when he plays in Event Four at the Creamery in Falkirk.
MacGillivray won the opening two Masters series events this season and reached the quarter finals on Sunday in convincing fashion, losing only one frame in his four group stage matches. He then beat David Hutchison (Cumbernauld) 3-1 to secure a quarter-final tie against Falkirk's Dougie Melrose this Sunday.